I've let this go a little bit, haven't I, this Hello Friday! thing.  Shame too, because it's lots of fun.
I caught up with Johnny Rock yesterday who had invited me in on his latest zany idea.  It's important to keep abreast of Johnny's zany ideas, not only because they're a load of fun, but he has the drive and excitement to actually bring a lot of them to fruition.  The project we were working on yesterday will be launched within the next week or two, and it will make up for all the Hello Fridays! lost to exams and the winter blues, so I promise to share my contribution when the time comes.
In the meantime, let's warm it up a bit.  Today's song is called 'All My Loving' and it's by The Almighty Defenders, a collobaration between The Black Lips and King Khan.  Neil and I were at Polyester Records on Record Store Day earlier in the year and he casually picked up their LP and said, "Sounds like something you'd be into."
Sounds like something I'd be into.  Sounds like something I would let run all the way to the end of Side B before promptly picking the record up and turning back over to Side A again. It's got that frantic, manic, no-time-to-sweat-the-small-stuff feel about it that I love.  'All My Loving' is track one, side one, and it's the small things that take it from a great song to that special, reserved place of favourite songs.  As you drop the needle on the record, it starts so aprubtly and loudly, which may be an effect you lose on YouTube, so to make up for it, make sure you turn your speakers all the way up.  As with a lot of rock 'n' roll, this song is best enjoyed at eleven.
It's exam season.  And if I'm absolutely fair, I fare okay this semester — only two exams to sit, whereas most of my RMIT pals are up for a heart-breaking four exams (yes, it's all well and standard until you're looking down the barrel at four exams, when everything is considered barbaric).
Today is my Software Engineering Fundamentals exam.  It's as fun as it sounds — three hours of UML diagrams.   At the moment, it feels like the only thing I may gain from doing well is that the following xkcd comic is another layer of funny: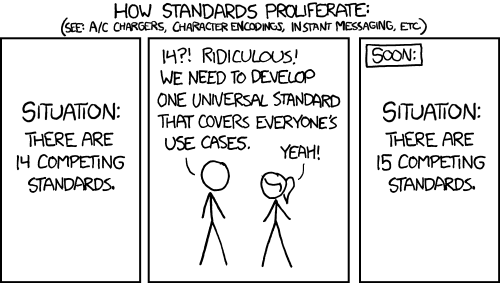 Best of luck to everyone in the same, two-to-three hour long situation.  Afterwards, I'm going to show you some new clothes I made.
It's one of those weeks so far.  You may know of the ones.  Your brain shuts down and it takes your body with it, leaving you to tell your brain to quit it!  Get up!
Then you realise you're not only talking to yourself, you're arguing with yourself.  It's a cylindrical problem you see.
However, enough about that.  I did finish up knitting a small piece, a Bo Peep Scarf, from Tiny Owl Knits.
I'm wearing it with a handmade Taffy blouse, in the softest, greatest silk/cotton blend I've ever loved.  It just keeps getting softer!
I'm particularly fond of Tiny Owl Knits — I've made the Amy March Slippers and The Forest and Frill shrug, and while there is nothing terribly innovative about her techniques or construction, the prose she uses to write her patterns are worth the cost alone.  This scarf was just about increasing and decreasing the scarf at particular points so as to accommodate being tied into a bow once completed.
I did make one adjustment.  There is a garter stitch edge all around the scarf, to help roll the stockinette under and keep the bow looking neat.  I decided to line the back of the scarf so that a) the bow would stand up better and b) so that I could neatly tack the garter stitch edge down.
Tilly, the cat that slouches atop this blog, as always, has been helping me knit.  Just when I think I've been having a rough time, all I do is have to look at him and see that he's wearing a funnel on his head.  The poor sod went in for a routine vet check-up and get some vaccinations, and ended up having to have a toe amputated.  At least I have all my toes, right?